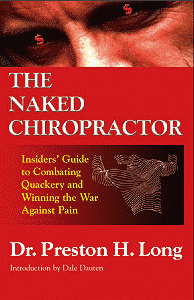 The Naked Chiropractor
Insider's Guide
to Combating Quackery
and Winning the War
Against Pain
Dr. Preston H. Long
The Naked Chiropractor exposes everything you need to know about back pain and the facts Chiropractors and Alternative Medical Practitioners prefer that you did not know. The inside story of the wars between unscrupulous practitioners and insurance companies. Behind the scenes stories about what's really going on at State chiropractic boards across the nation.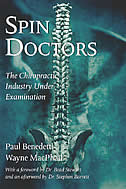 Spin Doctors
The Chiropractic
Industry Under
Fire

Paul Benedetti
Wayne MacPhail


Canadians visit chiropractors about thirty million times a year, and surveys show that patients are generally satisfied with them. But Paul Benedetti and Wayne MacPhail have another opinion. Their hard-hitting CANOE.CA web site called Spin Doctors I & II were instrumental in educating the public about the excesses of some chiropractors. This book took years to write, and it is a must read for anyone who plans to go for chiropractic treatment, or who pays for insurance that covers it.

The Chiropractor's
Self-Help Back
and Body Book

Sam Homola, D.C.


This is Sam Homola's latest book. What a relief to find a book that is an honest appraisal of how to treat the aches and pains of everyday living. If you are high on chiropractic, then this book should be on your shelf. Order it today
---

Inside Chiropractic

Sam Homola, D.C.
Stephen Barrett, M.D.


A behind-the-scenes look at chiropractic written by a forty-three- year veteran in the field. Samuel Homola, D.C., takes a frank and objective look at chiropractic and concludes that its fundamental theory -that "subluxations," or the adjusment of misaligned spinal bones, will restore and maintain health- is false.

This in-depth assessment of chiropractic, with true stories of injuries caused by chiropractors, arms the reader with reliable information to aid in making informed health care choices. Included are chapters on the theory of chiropractic, immunization, pediatric, unproven diagnostics and therapeutics, serious risks, and informed consent.