Complementary Alternative Medicine
Buy your books
from
HealthWatcher
If you are confused about alternative health issues, come to HealthWatcher for a great selection of books and tapes, on the subjects you want. Please feel free to make suggestions to us.
| | | |
| --- | --- | --- |
| | HealthWatcher Bookstores: | |
Healing Hype or Harm

This is a collection of essays on the topic of Complementary/Alternative Medicine (CAM) written by specialists from a wide range of backgrounds. The editor has given the contributors free rein to express their views. Since they come from a wide variety of angles from extremely anti-CAM to moderately supportive, the book contains widely different perspectives ranging from virulent attacks to thoughtful analyses. At first sight this may seem strange but in practice this book represents the very best of contemporary albeit on the whole skeptical scholarship. It is highly refreshing to find a collection that does not toe a line but instead gives a wide range of pros and cons and includes some new and stimulating ideas.
Autism's False Profits: Bad Science, Risky Medicine, and the Search for a Cure (Hardcover)

Dr. Paul Offit's amazing new book about the history of the anti-vaccine movement and the international brigade of corrupt researchers, ambulance chasing lawyers, politicians and advocacy groups who helped manipulate the parents of those children who were autistic. The anti-vaccine movement has caused significant harm to public health efforts around the world. The publication of this book may signal the beginning of the end to their position. Time will tell whether or not this will stop their insanity and manipulation of science.
Now Available from Amazon.uk

Order Today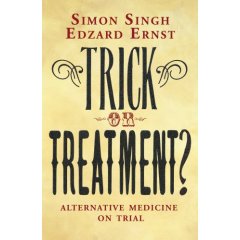 ---
Trick or Treatment:
The Undeniable Facts about Alternative Medicine
by Simon Singh and Edzard Ernst

---
Available May 27th
in Canada
Trick or Treatment:
by Simon Singh and Edzard Ernst
The ultimate verdict on alternative medicine.
Welcome to the world of alternative medicine. Prince Charles is a staunch defender and millions of people swear by it; most UK doctors consider it to be little more than superstition and a waste of money. But how do you know which treatments really heal and which are potentially harmful? Now at last you can find out, thanks to the formidable partnership of Professor Edzard Ernst and Simon Singh. Edzard Ernst is the world's first professor of complementary medicine, based at Exeter University, where he has spent over a decade analysing meticulously the evidence for and against alternative therapies.
He is supported in his findings by Simon Singh, the well-known and highly respected science writer of several international bestsellers. Together they have written the definitive book on the subject. It is honest, impartial but hard-hitting, and provides a thorough examination and judgement of more than thirty of the most popular treatments, such as acupuncture, homeopathy, aromatherapy, reflexology, chiropractic and herbal medicine.
In "Trick or Treatment?" the ultimate verdict on alternative medicine is delivered for the first time with clarity, scientific rigour and absolute authority.
The last rites for alternative medicine? - Telegraph
Note to Prince Charles: 'You're wrong' - MediaLife Magazine
Complementary therapies: The big con? - The Independent
Suckers:
How Alternative Medicine Makes Fools of Us All
by Rose Shapiro
Suckers reveals how alternative medicine can jeopardize the health of those it claims to treat, leaches resources from treatments of proven efficacy and is largely unaccountable and unregulated. In short, it is an industry that preys on human vulnerability and makes fools of us all.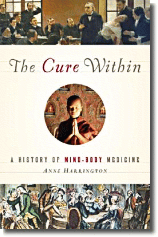 The Cure Within: A History of Mind-Body Medicine
The Cure Within
A History of Mind-Body Medicine

by Anne Harrington

Reviewed by Dr. Jerome Groopman

In "The Cure Within," her splendid history of mind-body medicine, Anne Harrington tries to explain why we draw connections between emotions and illness, and helps trace how today's myriad alternative and complementary treatments came to be. A professor and chairman of the history of science department at Harvard, Harrington has produced a book that desperately needed to be written.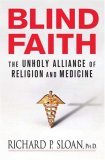 Blind Faith: The Unholy Alliance of Religion and Medicine

by Dr. Richard P. Sloan, PhD

Blockbuster New Book tackling the thorny issues about religion, prayer and medicine. If you've been told that you have an incurable illness, and that prayer will help --- think again.

This book will open your eyes. Dr. Sloan is a professor at the Columbia University School of Medicine and he introduces us to the major players in this new area of Christian evangelism. The studies purporting to show any health benefits from going to church or "being religious" are all so flawed as to render them useless. Using his epidemiological knowledge, Sloan carefully shows the reader how one should analyze claims from the media and claims in journals that purport to show a connection between religious behavior and improved health.
Amazon.com and HealthWatcher bring you the best new releases in Alternative Medicine, but don't expect the usual junk science. Our fine selection of alternative medicine books will lead you to an essential understanding of the latest scientific opinions about this growing field.




Complementary and Alternative Veterinary Medicine Considered

David W. Ramey
Bernard E. Rollin
Franklin M. Loew


Complementary and Alternative Veterinary Medicine Considered is a book that belongs in your veterinary library. If you are a veterinarian wondering if you should incorporate complementary and alternative veterinary medicine (CAVM) into your practice, if you have recently hired an associate eager to try such things as acupuncture or homeopathy, or if you have clients asking you about chiropractic, herbal, or magnetic field therapy for their pets, you'll want to understand the history, science and ethics behind such therapies.

Iowa State University Press




Implementing Complementary Therapies in Primary Care

This book is essential reading for all those interested in the critical evaluation of CAM and it s integration into a primary care environment. This book is a practical and readable guide to the integration of complementary therapies into mainstream primary care. Based on the successful experiences of the authors in a clinical setting.

Peters
Chaitow
Harris
Morrison

MUST HAVE!

Nature Cures
The History of
Alternative Medicine
In America
James C Whorton


Oxford University Press




Good Read

Inner Hygeine:
Constipation
and the
Pursuit of Health
In Modern Society
James C Whorton


Oxford University Press

TEXTBOOK

Consumer Health
With Powerweb:
A Guide to
Intelligent Decisions
Stephen Barrett
William Jarvis
Manfred Kroger

McGraw Hill




NY Times

New York Times
Guide to
Alternative Health
Jane Brody
Denise Grady

Times Books

TEXTBOOK

Evidence-Based Medicine:
A Framework for Clinical Practice
Daniel Friedland


McGraw-Hill




TEXTBOOK

Where's the Evidence?
Debates in
Modern Medicine

William A. Silverman
David L. Sackett


Oxford University Press




TEXTBOOK

Evidence-Based Medicine: How to Practice and Teach EBM (Book with CD-ROM)
David Sackett
Sharon Straus
W. Scott Richardson
William Rosenberg
R Brian Haynes

Churchill Livingston




TEXTBOOK

TEXTBOOK

Clinical Epidemiology
A Basic Science
for Clinical Medicine
David Sackett

R. Brian Haynes
Peter Tugwell
Gordon H. Guyatt

Lippincott Williams & Wilkins Publishers




TEXTBOOK

User's Guide to the Medical Literature - Essentials of Evidence-Based Clinical Practice
Gordon, Md. Guyatt
Drummond Rennie

American Medical Association

POLITICAL BOMBSHELL

INTERNATIONAL VIEWS

Healing or Stealing?
Medical Charlatans
in the
New Age
Jean-Marie Abgrall

Algora Publishing

MORE ANSWERS

Did Adam and Eve
Have Navels?
Discourses on Reflexology, Numerology, Urine Therapy, and Other Dubious Subjects

Martin Gardner

W. W. Norton

A MUST HAVE

From the Wandering Jew
to
William F. Buckley, Jr.
On Science, Literature, and Religion

Martin Gardner

Prometheus Books

BLOCKBUSTER
NEW RELEASE

Quack!
Tales of Medical Fraud
from the
Museum of Questionable Medical Devices

Dr. Bob McCoy

Santa Monica Press



Alternative Medicine Books

-- "Caveat Emptor --
--Your health is not for sale" --

Help yourself to hundreds of books on alternative medicine from our selection of fine books.

We work with AMAZON to save you money. Please browse this page, and if you don't find what you want, then just use the search engine above.

| | |
| --- | --- |
| HealthWatcher Bookstores: | |





If you want to know the facts about herbal agents,
not the folklore, this is THE book to get.
This 1999 edition has it all. Written by two pharmacists with broad training and insite into herbal medicine.







The PDR Family Guide to Natural Medicines and Healing Therapies

This is PDR's first edition of the Family Guide to Natural Medicines and Healing Therapies. For objective reports on what works, what doesn't work, and what's harmful about going to an alternative medical guru or clinic, you can't beat the PDR's team of experts.

The HealthWatcher Bookstores Online help support public education in areas of medicine, alternative healthcare that are often ignored by bookstores. If you are confused about the issues, come to HealthWatcher for a great selection of books and tapes, on the subjects you want. Please feel free to make suggestions to us.


You can reach HealthWatcher Books at: HWBA@healthwatcher.net
Fundamentals of Complementary & Alternative Medicine

C. Everett Koop
Marc S. Micozzi

Churchill Livingston series

The Alternative Medicine Ratings Guide

Steven Bratman

Prima Health
1999 Edition

Natural Medicines
Comprehensive Database

Jeff M. Jellin Pharm.D.

Therapeutic Research Faculty

The Alternative Medicine Sourcebook
A Realistic Evaluation of Alternative Healing Methods

Steven Bratman


Lowell House

Steven Barrett
William Jarvis
Ann Landers


HARDBACK Edition

GREAT PRICE

Macmillan Publishing Company Staff


Macmillan Publishing

Complementary & Alternative Medicine:
Legal Boundaries &
Regulatory Perspectives

Michael H. Cohen


Johns Hopkins
University Press


Kathiann M. Kowalski


Enslow Publishers


Jack Z Yetiv, M.D., PhD


Popular Medicine Press


Beachwood Healthbooks

A Consumer's Guide
to Alternative Medicine:

A Close Look at Homeopathy, Acupuncture,
Faith-Healing &
Other Unconventional Treatments

Kurt Butler
Stephen Barrett


Prometheus Books


New World Library

James M. Humber
Robert F. Almeder


Humana Press


Carlos A. Bonilla
Joyce L. Goss
Carlos A. Bonilla
Wesley King


I C A Publishing

Professions and the Public Interest :
Medical Power, Altruism
& Alternative Medicine

Mike Saks


As its title suggests, this book provides a sociologist's perspective on "healers...practising...outside the boundaries of conventional medicine". Easthope's narrative reports from the field enliven his analysis, which provides a social context for understanding the appeal and varying 'effectiveness' of both unorthodox and orthodox healers. The resulting book, concise and readable, contains much of interest from a general-semantics perspective.


Reviewed by Bruce I. Kodish, P.T., Ph.D. © 1998*

Routledge, Chapman & Hall

Alternative Medicine or Magical Healing

The Trick Is to Know the Difference

George A. Ulett


Although alternative medicine is now studied seriously in The National Institutes of Health and Harvard Medical School, questions of efficacy and practitioner motivation still cloud the topic. Alternative Medicine or Magical Healing attempts to give a balanced picture of the New Age healing movement and sorts out which treatments should be approached with caution or avoided, and which might be useful as complements to traditional medicine. Dr. Ulett was one of the first American physicians to study in China and Japan, and pioneered the use of acupuncture in this country. His long interest in holistic healing reflects an open-mindedness to other ways of treating and an interest in healing both body and spirit. Dr. Ulett is a past Director of the Missouri Department of Mental Health. He currently has a private practice in Psychosomatic Medicine and Psychiatry.

Warren H. Green

Healthsmarts:
How to Spot the Quacks

Avoid the Nonsense...
&
Get the Facts
That Affect your Health

John Renner and Lewis Vaughn


HealthFacts Publishing




Healers & Alternative Medicine:
A Sociological Examination of Alternative Medicine

Gary Easthope


Book Review

Gower Publishing