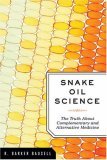 Snake Oil Science:
The Truth about Complementary
and Alternative Medicine
by R. Barker Bausell
Millions of people worldwide swear by such therapies as acupuncture, herbal cures, and homeopathic remedies. Indeed, complementary and alternative medicine is embraced by a broad spectrum of society, from ordinary people, to scientists and physicians, to celebrities such as Prince Charles and Oprah Winfrey.
In the tradition of Michael Shermer's Why People Believe Weird Things and Robert Parks's Voodoo Science, Barker Bausell provides an engaging look at the scientific evidence for complementary and alternative medicine (CAM) and at the logical, psychological, and physiological pitfalls that lead otherwise intelligent people--including researchers, physicians, and therapists--to endorse these cures.
The book's ultimate goal is to reveal not whether these therapies work--as Bausell explains, most do work, although weakly and temporarily--but whether they work for the reasons their proponents believe. Indeed, as Bausell reveals, it is the placebo effect that accounts for most of the positive results.
He explores this remarkable phenomenon--the biological and chemical evidence for the placebo effect, how it works in the body, and why research on any therapy that does not factor in the placebo effect will inevitably produce false results. By contrast, as Bausell shows in an impressive survey of research from high-quality scientific journals and systematic reviews, studies employing credible placebo controls do not indicate positive effects for CAM therapies over and above those attributable to random chance.
Here is not only an entertaining critique of the strangely zealous world of CAM belief and practice, but it also a first-rate introduction to how to correctly interpret scientific research of any sort. Readers will come away with a solid understanding of good vs. bad research practice and a healthy skepticism of claims about the latest miracle cure, be it St. John's Wort for depression or acupuncture for chronic pain.
Petro-Canada hawks magnetic bracelets.




HEALTH FRAUD IS EVERYBODY'S BUSINESS
WHEN THE GOVERNMENT DOESN'T CARE
- HEALTHWATCHER IS THERE -


This is an official complaint to Health Canada, the Competition Bureau,
and the ASC in regards to the Petro-Canada flyer that  came with my
recent Petro-Canada bill.

The complaint is based on fraudulent advertising of magnetic bracelets.

Direct complaints to us about any other questionable Petro-Canada health
promotion to:   pc-complaints@healthwatcher.net


---





Text of the flyer:


Magnetic Therapy Bracelets are believed to Foster
Natural Healing and Well-Being!

Magnetic Therapy is believed by many people to
be an effective non-medical treatment to help
reduce pain from aching joints, promote
flexibility and help enhance the body's
own natural healing. When worn
constantly on the wrist, the
bracelet's magnetic properties
are believed to help stimulate
all 15 acupuncture points
that help activate the blood circulation
and body metabolism.

Beautiful and Therapeutic...

This attractive Sukura adjustable link-bracelet with 18K gold-plated
overlay is embedded with seven penetrating neodymium magnetc
discs concealed in the inner surface. The special plating will resist
scratching to keep your comfortable bracelet looking new and
tarnish-free. The unisex styling is perfect for both men and women.
(Available in two sizes: approximately 8 1/4" and 6 3/4".)

Each Bracelet Only $29.99*
Buy 2 Bracelets  $49.98  - Save $10

Elegantly styled two-tone
bracelet available in
two sizes!

Experience Magnetic Therapy!

You'll find satisfied users of magnetic
therapy in all age groups and just about
every walk of life - at the office, at home
or on the golf course. Many men and
women, including professional athletes,
use magnetic therapy to help reduce pain
and increase flexibility.

These attractive link bracelets contain
seven powerful magnetic discs embedded
on the inner surface to enhance circulation
and naturally benefit sore, strained muscles
and joints.

Combining Orientsl acupuncture and magnetic theory, the SUKURA Bracelet
helps activate blood circulation and the
body metabolism.

Caution: Not for use by
pregnant women, individuals
fitted with cardiac pacemakers,
and/or internal defibrilators.

SUKURA

Discover Magnetic Therapy

18K Gold-Plated Magnetic Link Bracelet

Magnetic Therapy
is believed to help:

  * promote natural healing
  * relieve pain
  * reduce stress and anxiety

[PETRO-CANADA LOGO] * 30 DAY HOME TRIAL

SUKURA

The mailer is supposed to be returned with my Petro-Canada bill that I
pay every month.

The mailing address is
PETRO-CANADA
PO Box 6000
BRAMPTON  ON  L6V 9Z9




---


SUBSTANCE OF COMPLAINT:

1. FIRST OF ALL I RESENT MY PETRO-CANADA DOLLARS TO BE SQUANDERED ON
SUCH RUBBISH. OUR GAS PRICES ARE HIGH ENOUGH, WE SHOULD NOT BE
SUBSIDIZING ANY MASS MAILINGS THAT INCLUDE FRAUD OR QUACKERY.


2. SECONDLY THERE IS NOT ONE WORD OF TRUTH FOR ANY OF THE CLAIMS MADE IN
THE FLYER - NOT ONE!!!!

OUR HEALTHWATCHER.NET WEB SITE WILL FEATURE THIS FLYER AS A NOMINEE IN
OUR COMPANY QUACK-OF-THE-MONTH CLUB CONTEST.

I use Petro-Canada for 99% of my fuel needs for my automobile.

I think that I will be applying for another credit card this month.

If PETRO-CANADA or its investor relations department would issue a
public apology to holders of Petro-Canada credit cards in the next
mailing for the promotion of a fraudulent product, we will remove all
references to these magnetic bracelets from our site.

Thank you very much.