Support HealthWatcher.net

If you would like to support our efforts to combat quackery, health and diet fraud we make it easy for you to donate to the cause.
Canadian Quackery Watch - Hot Topics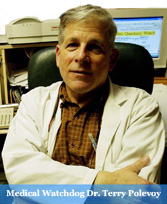 Colloidal Minerals - Miracle or Menace
Silver Water marketer busted by Health Canada
Based on a number of complaints by HealthWatcher.net the supply of Silver Water being sold by Petrolia Magnetic Health was temporarily flushed. We understand that a well-known quack is still at it, but this time he relabeled the junk as "mineral water". What games these folks play at the expense of our health. U.S. based shipments are still coming in labeled as "homeopathic" colloidal silver. These folks won't quit!
Patrick Flanagan and Medical Media Circus
When an internationally known medical columnist started to promote Imedeen earlier this year as a cure for wrinkles, we took notice and complained to the College of Physicians. A few months later, the doctor touted something called Microhydrin, which is a mixture of minerals that is supposed to be the fountain of youth, the cure for chronic diseases and more. Why did he give out the toll-free telephone orders for both products in his column? If Pfizer or Roche released a new drug, would he give out the phone number to the wholesale drug warehouse to his readers?

The internet, and my mailbox has been overflowing with the Essence of Joel. This large animal doctor and naturopath, so he claims, leads the world in perhaps the number one nutritional scam on the face of this mineral laden planet.

Below you will find the quintessential links to the most curious health claims that I have ever heard. The problem with them is that even doctors might believe them, the FTC has ignored them, and the FDA can't do a damn thing about them.
Warnings
Joel Wallach
Quack nutritionist Paula Bickle
Paula Ruth Bickle hosts the 5-day-a-week hour-long, Internet-based "Dr. Paula" radio show during which she gives detailed (but usually incorrect) medical and nutrition advice to people who call about serious health concerns. She advises most people to treat themselves with products from American Longevity, a multilevel marketing company for whom she and her husband are leading distributors. The company's products are promoted during commercials that occupy about half of each show. Bickle frequently advises people to distrust prevailing medical opinions and to use specific products to treat themselves. American Longevity was founded by Joel Wallach, DVM, who is best known for his deceptive promotion of colloidal minerals.
The case against colloidal minerals
FDA crack down on Colloidal Silver hits fever pitch
Late March, 2001 was a significant time in the battle against colloidal silver claims. The FDA made public four letters that it sent during March to Internet distributors of colloidal silver. The new letters bring the total for the year to nearly 20.
---
Canadian Links
CBC Radio-TV


Consumer Sentinel Complaints