Support HealthWatcher.net
If you would like to support our efforts to combat cancer quackery, health and diet fraud we make it easy for you to donate to the cause.
Support HealthWatcher.net

If you would like to support our efforts to combat quackery, health and diet fraud we make it easy for you to donate to the cause.
Superstition: Belief in the Age of Science

"Science," he says, "is the only way humankind has found of separating truth from fraud or mere foolishness; it's what we've learned about how not to fool ourselves." With acerbic wit and humorous repartee, Robert L. Park, professor of physics at the University of Maryland, asks why we believe weird things even when no evidence supports our claims. "Science," he writes, "is the only way of knowing--everything else is superstition. Everything in the universe is governed by the same natural laws; there is a physical cause behind every event." A humanist and naturalist, Park asserts that science rejects appeal to authority in favor of empirical evidence. He attacks pseudoscience--from so-called "intelligent design" and young-Earth fundamentalism to New Age mysticism, homeopathic "remedies," and snake-oil "cures."
Now Available from Amazon.uk

Order Today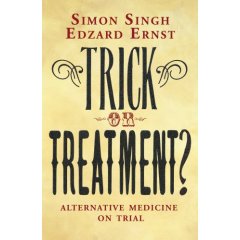 Trick or Treatment:
The Undeniable Facts about Alternative Medicine
by Simon Singh and Edzard Ernst

---
Available
in Canada
Trick or Treatment:
by Simon Singh and Edzard Ernst
The ultimate verdict on alternative medicine.
Welcome to the world of alternative medicine. Prince Charles is a staunch defender and millions of people swear by it; most UK doctors consider it to be little more than superstition and a waste of money. But how do you know which treatments really heal and which are potentially harmful? Now at last you can find out, thanks to the formidable partnership of Professor Edzard Ernst and Simon Singh. Edzard Ernst is the world's first professor of complementary medicine, based at Exeter University, where he has spent over a decade analysing meticulously the evidence for and against alternative therapies.He is supported in his findings by Simon Singh, the well-known and highly respected science writer of several international bestsellers. Together they have written the definitive book on the subject. It is honest, impartial but hard-hitting, and provides a thorough examination and judgement of more than thirty of the most popular treatments, such as acupuncture, homeopathy, aromatherapy, reflexology, chiropractic and herbal medicine.
In "Trick or Treatment?" the ultimate verdict on alternative medicine is delivered for the first time with clarity, scientific rigour and absolute authority.
Book reviews
Suckers:
How Alternative Medicine Makes Fools of Us All

by Rose Shapiro

Suckers reveals how alternative medicine can jeopardize the health of those it claims to treat, leaches resources from treatments of proven efficacy and is largely unaccountable and unregulated. In short, it is an industry that preys on human vulnerability and makes fools of us all.
Snake Oil Science:

The Truth about Complementary

and Alternative Medicine

by R. Barker Bausell


Millions of people worldwide swear by such therapies as acupuncture, herbal cures, and homeopathic remedies. Indeed, complementary and alternative medicine is embraced by a broad spectrum of society, from ordinary people, to scientists and physicians, to celebrities such as Prince Charles and Oprah Winfrey.

In the tradition of Michael Shermer's Why People Believe Weird Things and Robert Parks's Voodoo Science, Barker Bausell provides an engaging look at the scientific evidence for complementary and alternative medicine (CAM) and at the logical, psychological, and physiological pitfalls that lead otherwise intelligent people--including researchers, physicians, and therapists--to endorse these cures.

The book's ultimate goal is to reveal not whether these therapies work--as Bausell explains, most do work, although weakly and temporarily--but whether they work for the reasons their proponents believe. Indeed, as Bausell reveals, it is the placebo effect that accounts for most of the positive results.

He explores this remarkable phenomenon--the biological and chemical evidence for the placebo effect, how it works in the body, and why research on any therapy that does not factor in the placebo effect will inevitably produce false results. By contrast, as Bausell shows in an impressive survey of research from high-quality scientific journals and systematic reviews, studies employing credible placebo controls do not indicate positive effects for CAM therapies over and above those attributable to random chance.

Here is not only an entertaining critique of the strangely zealous world of CAM belief and practice, but it also a first-rate introduction to how to correctly interpret scientific research of any sort. Readers will come away with a solid understanding of good vs. bad research practice and a healthy skepticism of claims about the latest miracle cure, be it St. John's Wort for depression or acupuncture for chronic pain.

"This technology saved my life!" - NOT!!!!
A pain sufferer tells his personal story of healing
But, testimonials and false claims just don't count.
The scam here is quite clear. The EIS device is illegal in the United States and is not recorded in the Health Canada Device Database. How can the Bowen clinics continue to prey on the public without anyone at Health Canada giving a damn?
The owner of the "Let It Heal" company is apparently not a registered massage therapist in Ontario. Yet she uses her hands in what most would be considered a controlled act under the RHPA here in Ontario. In other words she seems to be performing things that only a chiropractor, physiotherapist, doctor or massage therapist is allowed to do.
But, that hasn't stopped CTV from featuring her in a story on their "healthy lifestyles" show back on November 11, 2009 and probably February 19, 2010. Why didn't CTV know that this was a bloody scam? In fact, after the video aired, they made a decision to keep the text of the story up and running, and it's now early March 2010. Could it be that Bowen advertises on CTV?
Hamilton's CHCH-TV also fell for this scam and somebody posted the segment on YouTube.com:
John (Jonathan) Sargent from EISSCAN.COM appears in this CHCH-TV video and claims that 1,500 doctors use this device and that it is approved by Health Canada. He is also the man behind another electrodermal scam operation promoting other disreputable devices at his Quantum Energy Health Centres of Canada. The list of unapproved and fraudulent devices is unbelievable.
After Scott Urquhart's interview is over, there are a number of other YouTube.com links that you need to watch. Most of them are 30 second spots. How in the world did they pull this one on Urquhart, and why did CHCH let this run in the first place. Again, does Let It Heal advertise on CHCH? Another CHCH performer featured another Bowen practitioner on one of his "At Home" shows and it was posted by someone on January 26, 2009. Reporter Maria Hayes also did a piece on CHCH and it was posted on February 21, 2009. False claims were made that they can treat infants who have colic and clients who have reproductive issues. Of course CHCH posted the phone number and their web site. Was this an infomercial or not? A naturopathic clinic in Toronto that uses the EIS device and other quack techniques also offers a registered medical doctor who is a specialist in Family Medicine. How can a medical doctor choose to associate with those people who use quack devices?
The inventor in Sarasota, Florida claims that "we are listening to body signals". As far as I am concerned they are listening to the sound of money rolling into their pockets. There is NO SCIENTIFIC EVIDENCE that this scam device does anything that they claim.
Dr. Stephen Barrett of Quackwatch has the following comments:
"A device claimed to provide information about hundreds of diseases and conditions could not be approved without a mountain of evidence substantiating usefulness and reliability. X-ray equipment is approved, for example, because the relationships between x-ray findings and physical findings have been studied in countless millions of cases. Electro Interstitial Scans have no proven practical value and could cause large amounts of time and money to be wasted by people who believe the speculations.

The EIS device is registered with the FDA, which merely means that the agency has been notified that it exists. It is not listed in the agency's 510(k) database, which means that it has not been cleared for marketing and is not legal to market in interstate commerce in the United States."
The bottom line is basically this. It's one thing to be fooled into believing that toxins can be removed from your body (see below), which is a total scam. It's another to make medical claims and used unapproved devices to scam patients and potentially sabotage standard medical therapy with their wacky device.

"Pain In The Azz?"
The Headline Is Funny, The Pain Isn't
Ion Detox - Why would your health insurance company support this quackery?

Complaints have been filed against these clinics for months with the Competition Bureau because of false claims made for some of the treatments sold to unwarry consumers at many of these locations. The regulatory health colleges have done nothing to clean up their acts, because at some of these facilities there are practitioners who just plainly don't cut the mustard. They work side-by-side with charlatans using unproved methods of treatments, making promises that they are unable to keep. Meanwhile, they are making money in their endeavors, despite it all.
It has been clearly demonstrated that the Ionic foot bath cleanses don't work, but operators like this still charge $25.00 each. Some of these types of devices have been reviewed by DeviceWatch.com
Contact us with your story if you feel that you have been ripped off by detox scams from anybody.
---

"I will walk again...and SOON!"
MS patient's testimonials are worthless
Let It Heal
This Let it Heal advertisement appeared on page E2 of the September 19, 2009 Waterloo Record. It makes false claims and provides testimonials for its services. MS patient Daisy was being used to promote quackery. Multiple sclerosis patients have remissions all the time. Daisy's relief was purely part of her disease process. The operators of the various Bowen therapy clinics have just preyed on another victim, and that's unethical. The fact that the government of Ontario allows these types of claims to continue is egregious. For the media to continue to profit from advertising revenue is worse than that.
---
Woman Find Relief - Avoids Back Surgery

This Let it Heal advertisement appeared on page A2 of the July 24, 2009 Waterloo Record. The newspaper and its publisher has failed to respond to my complaints for years. As well, the Competition Bureau ignores ads like this.

Their ad states that they have helped almost 90% of their clients with almost complete reduction of their problems. Of course, they have never published these results and testimonials aren't worth anything. But, you don't know that when you read this ad. The biggest lie of course is their statements that their ion detox methods stimulate the body's own natural detox mechanisms. How can soaking your foot in a water bath charged up to an electric current do anything?
---

Miraculous recovery for
bedridden 76-year-old at
Let It Heal
This Let it Heal advertisement appeared on page A2 of the June 6, 2009 Waterloo Record. It makes false claims and provides testimonials for its services. A similar ad appeared on page B2 on June 11, 2009.

It appears that LetItHeal.com's web site uses or sells an unapproved medical device called the Super Zapper Deluxe. The vendors of this type of instrument have been the subject of litigation by the FTC in the U.S. The "zapper" was made famous by the infamous Hulda Clark, a Tijuana cancer quack.

One of the problems with Let It Heal is that they have a registered massage therapist on their staff. RMTs are governed by Provincial legislation in Ontario. If a RMT is practicing in a clinic that is selling unapproved products or providing services that are bogus, the College of Massage Therapists of Ontario needs to take a look at their practice.
---
TOTALLY DISGUSTING
RESULTS GUARANTEED
This ridiculous advertisement appeared in the April 2009 issue of an newspaper supplement full of coupons and special offers that was bundled with my Waterloo Record on April 7, 2009.

I believe that the publisher may actually operate out of an office plaza in Waterloo where there is a UPS Store. Then again, it could be that they rent a mailbox at the UPS store.

If you call Keith at 519-896-3503 he can tell you how you can,
"Reach over 170,000 regional homes in full colour for less than 1/2 cent per home!"
Another Bowen ad also appeared in the same issue. It was the ad that stated,
"I no longer worry about back pain. Bowen changed my life!"
---
Foot baths do not remove toxins, nor do they do anything that they claim. All of the ads like this are scams. Anyone who thinks otherwise should ask for their money back. If they won't refund your money call the Better Business Bureau.
---
Bowen Therapy and Ion Detox Foot Spas
Got Pain? Get Bowen!tm
Bogus claims and promotions of quackery have spread across Canada, but some of the most flagrant quackery that borders on fraud has been promoted in full page ads in local newspapers. It's a Canadian franchise based on a bogus concept that apparently originated in Australia. Bowen Therapy Clinics' print ads and web sites use testimonials with slick ad copy without one shred of evidence that their unregulated treatments work.
Are any of these practitioners qualified to make these claims and treat patients?
Who regulates quack clinics like this in Ontario?
Who provides liability insurance for these clinics?
I've filed complaints with Health Canada, the Competition Bureau, and several colleges of health professionals in Ontario because of what I would consider unsupported health claims.
"The genius of Bowen Therapy is that it recognizes the human body as a self-healing organism. The effect of Bowen Therapy is profound and long lasting because....this leads to improvement as opposed to requiring constant reinforcement without addressing the underlying causes. Bowen Therapy stimulates the body to fully resolve chronic problems."
Links to newspaper ads and postcards
Herbal Ion Detox Foot Spa scam
Another Bowen Therapy Clinics service is a complete and total scam. They claim that their exclusive Do The Detoxtm (Herbal Ion Detox Foot Spas) alkalinizes your entire body by ridding your body of harmful toxins. This device has been discredited by a number of researchers and skeptical associations.



Their claims are totally and completely false.
Conditions Treated by Bowen Therapy

BENEFITS
-Liver/ Kidney Detoxification
-Removes Heavy Metals
-Balance Body pH Levels
-Boost Metabolism
-Improve Blood Circulation
-Improves Healthy Cell Re-generation
-Strengthen the Immune System
-Increase Energy
-Reduce Stress
-Provides Pain Relief
-Internal Cleansing
-Reduces Wrinkles & Acne
-Improves Memory and Sleep

Skeptical links and legal action against detox devices
BioEnergetic Intolerance Elimination - BIE™
Fake Allergy Testing marketed by chiropractors and unregulated quacks
Here a few of their bogus claims:
"Welcome to the The Institute of Natural Health Technologies located in Oakville, Ontario, Canada. We specialize in the relief of allergy symptoms of all kinds and have developed a new, noninvasive, drug free approach to dealing with allergies. We have had tremendous success to date and invite you to check out our testimonials page and hear what countless others are saying about our breakthrough methods for dealing with allergies."
They claim to eliminate 80% of allergies after the first visit.
I believe that this is one of the worst scams that involved a potentially deadly testing procedure that appears to be the brainchild of a group of quacks from Ontario and promoted by two chiropractors from New York State.
---
Ontario homeopathic practitioner uses chiropractor's office to rant against vaccines
Cynthia Simmons, who claims to be a "Dr." of homeopathy in this advertisement below has her own web site that I feel is aimed to deceive the public with unproved, useless tests and programs.

Health Thyself Family Naturopathic and Weight Loss Clinic. is located in Acton, Ontario in the Halton Hills area of Southwestern Ontario. The average visitor to her web site might be led to believe that there are naturopaths who work there. Unfortunately, there is no mention on her web site that there are any naturopaths there.

The advertisement below was placed in a community newspaper, The Georgetown Independent, by a local chiropractor on November 30, 2007.
HIDDEN DANGERS OF VACCINATIONS
Information Session - Monday Dec 3, 7 - 8 p.m.
Gabor Madarasz, DC of Georgetown, Ontario is hosting Cynthia Simmons at his PainFree Life Chiropractic Centre. Notice the Christian fish logo on his web site.
Simmons makes the claim that she is a doctor of homeopathy. In Ontario, homeopaths are not licensed, registered or regulated. Homeopaths are not allowed to use the term Dr. in front of their names.
So, why would a registered chiropractor align themselves with somebody who is clearly not regulated, and how could they not know that their agenda aims to destroy the public health system in our Province by preaching lies about immunizations.
Madarasz must know that the fact that he is supporting this talk in his own office clearly places his registration at risk. He could be fined up to $25,000 by the College., and face up to 6 months behind bars if he is found guilty.
Simmons has her own office in Acton, Ontario and that office is called Truestar HEALTH, a Canadian company that franchises weightloss and fitness programs, and uses the internet to market them. Their main targets seem to be personal trainers and spas. They also have their own Truestar clinic in Toronto, where there are apparently three real naturopaths. However one of their associates is not a regulated health professional, and she does something called Live cell microscopy, which is totally bogus.
Do the team members or executives of Truestar Health know about Cynthia Simmons and her anti-vaccine views? Would Joey Shulman, a chiropractor, naturopaths Natasha Turner and Olga Warshavsky support those views?
The Board of Directors of Drugless Therapy - Naturopathy, which will apparently come under regulation as health profession in a few years has the right to demand that Simmons cease her claims that her clinic in fact is a naturopathic one. Simmons recommends dubious tests on her own web site, including hair analysis, oxidata testing of the urine that purports to detect cell damage in minutes. Wow, am I impressed!!!
Couple these to tests with more of the same rubbish:
Saliva Testing of Steroid Hormones - Identifies overt deficiency or excess (eg. Estrogen, Progesterone, DHEA, Corticsol, Melatonin)
DIA Test : C Breath Test for Insuline Resistance : a non-invasive testing kit for teens to check their insulin sensitivity
Thyroid Activity Tests: Iodine Skin Absorption Test; Basal Body Temperature Test
Zinc Taste Test: to check ZINC deficiency
pH Saliva Test
Urinalysis Strip Test
Blood Pressure
In other words, Simmons is basically practicing medicine without a license, and she should be investigated for health fraud by the Ministry of Health.