---
STOP TIM BOLEN'S, ILENA ROSENTHAL'S
& BILL O'NEILL'S
DEFAMATION AND LIBEL


JOIN THE BATTLE
| | |
| --- | --- |
| | Libel and defamation can be stopped by clicking on PayPal. Thanks for your kind support. |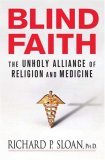 Blind Faith: The Unholy Alliance of Religion and Medicine by Dr. Richard P. Sloan, PhD
Blockbuster New Book tackling the thorny issues about religion, prayer and medicine. If you've been told that you have an incurable illness, and that prayer will help --- think again.
This book will open your eyes. Dr. Sloan is a professor at the Columbia University School of Medicine and he introduces us to the major players in this new area of Christian evangelism. The studies purporting to show any health benefits from going to church or "being religious" are all so flawed as to render them useless. Using his epidemiological knowledge, Sloan carefully shows the reader how one should analyze claims from the media and claims in journals that purport to show a connection between religious behavior and improved health.
---
Support HealthWatcher.net
If you would like to support our efforts to
combat health and diet fraud
we make it easy for you to help the cause.
Peter Popoff exposed as fraud
Videos

Follow the money as his personal income grew by millions over the last few years. This profile also includes James Randi's sting on Popoff when he recorded radio transmissions from his wife during a scam operation many years ago. His "ministry" spans the globe, and yet nobody has been actually able to prove that he is really a man of the cloth.

The only insight into Popoff's organization comes from IRS documents. In 2003, people donated $9.6 million to Popoff's organization. Nearly a million of that, $909,133 went to salaries paid to him, his wife and children. By 2005, donations soared to more than $23 million. And so did the salaries of Popoff and his family, jumping to $3,137,929. When we told Clement [a minister] the numbers, he was stunned. "$23 million dollars? That's ridiculous," he said Pastor Fuiten has a different answer: "I think it sours people toward religion."

Even more surprising, Popoff has a history of televangelist fraud. In the 1980's, he held faith-healing crusades around the country. A video widely available online, shows one of those crusades where he ministers to people with such serious ailments as cancer.
Peter Popoff - Scamming us again
Why has Peter Popoff, the often discredited religious fraud artist been allowed to broadcast his junk for the last few years on CHCH-TV Channel-11 in Hamilton, Ontario, and on cable television outlets across the country? At the present time, the shows are running at midnite Sunday. This means that they are on after 11:00 p.m. news on Sunday night.

His show used to run on the previous network, WIC International Communications when they owned CHCH. When that station was brought into the CanWest Global-TV media conglomerate the shows continued to run
Popoff's supporters
This space is empty because frankly we can't find any.
Why is Peter Popoff a crook and a fraud?

Why do many Pentecostals think he is saved and that the Holy Spirit is performing miracles through him? This is the place for viewing the Real Video of the fraud as exposed by the Great James Randi.
Peter Popoff Web site
Hey folks -- it don't work. Most of the links are DEAD -- just like his religion
Home page -- Beyond the negative articles published on the Internet by desperate, anti-God men who are trying to make a name for themselves, most people might overlook the MIGHTY anointing of the Holy Spirit that rests upon Peter Popoff and his ministry. In their atheistic, but futile, quest to disprove the miraculous, these miss-directed men have totally missed this key element in Peter Popoff's life and ministry.
Canadian broadcast media and government resources for complaints
I suggest that you go to several of the following links to complain about this fraudulent religious goof-ball, and send copies of all your correspondence to the station itself using the links above.
Canadian Broadcast Standards Council Links
The CBSC provides the following lists of websites which it hopes may be of interest and utility to visitors and the direct e-mail address of the Council's National Chair and Executive Director. These are followed by a list of all of the CBSC members and their websites of which we are currently aware. They are divided into Television, Specialty and Radio lists and, within each, members are separately listed by province and city. Both the membership and website lists are, of course, organic. They grow and change from day to day. If you have information regarding changes or additional links, please do not hesitate to let us know.
Government
Associations
Contacts for CHCH
---